HairButlers, serving hairdressers & barbers
Hairdresser trolley
It's time for innovation, in the form of an ergonomic, innovative and stylish hairdresser workstation from HairButlers! Our Butlers have been developed with hairdressers, for the hairdressers, with the goal of developing a sustainable and ergonomically responsible hairdresser workstation that serves you like a true Butler. The workingstations are made of epoxy steel, which makes them durable, heat resistant, easy to clean and fully recyclable. Every hairdresser's trolley from HairButlers is made with beautiful big wheels that makes it virtually no hair between them. The wheels can be easily removed to remove the hair.
HairButler 'Royal'
The HairButler 'Royal' is a workstation and paint station in one and has some very nice and practical qualities. You can extend the 'Royal' with handy accessories like various storage boxes, a top plateau, a hair dryer holder, a foil holder and a power station that can be connected to various devices. The scissors are also well protected and stored in a clever way.
HairButler 'Charles'
HairButler 'Charles' a.k.a BarberButler has been developed for barbers and hairdressers who hardly paint. The top plateau has no holes for paint trays and the outer edge contains brackets for hanging tools like tondeuses. The "Charles" is also extendable with the same handy accessories and is also available in a variety of colors, including blank steel, which provides a very tough and industrial look.
Adjustable in height
Our Butlers are also available as 'height adjustable' models. With the 'Plus' models, the heights range from 85 to about 115 cm. This will greatly improve the posture of hairdressers and barbers, and in the future, there will be less back problems with people who are working as a hairdresser.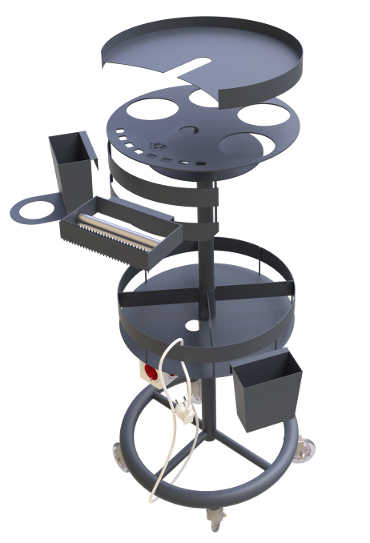 Amazing
Product:
Get your own now!
We are seeing more and more salons usingour HairButlers, you want your own Butler? Order it in our webshop!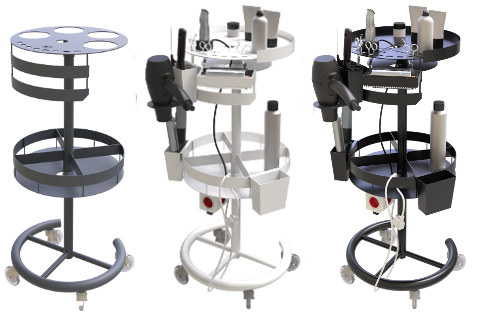 Video impressie
In the video below you will see an impression of the HairButler 'Royal' presentation at the Beauty Fair in Hardenberg. The Butler was enthusiastically received by the industry people. Many also immediately saw the benefits such as:
Coloring and work station in one!